The Courses
Arrowtown
The picturesque Arrowtown Golf Club is set in Central Otago, one of New Zealand's most historic and scenic regions. Surrounded by mountains, the 18 hole course has superb views of the Remarkables and Coronet Peak from every fairway. Each hole has its own attraction and the diverse and challenging course attracts players from all over the world. Historic stone cottage ruins nestle amongst towering trees, a legacy of Arrowtown's pioneers.
Millbrook Resort
New Zealand's first international golf resort, Millbrook opened in 1992. Millbrook is surrounded by magnificent mountains. Sir Bob Charles made sure that the many trees would not interrupt the view of them. The course is therefore relatively free of aerial hazards but there are some really nice water features and hazards, especially the 18th hole water hazard which finishes in front of the beautiful stone clubhouse. Another nine holes is now open, making this a unique 27 hole proposition! A well established resort has been built around the original Mill House buildings and landscapes. Views from all aspects of the resort to the Remarkables Mountain ranges and Coronet Peak make this a fantastic setting to be based for a number of days.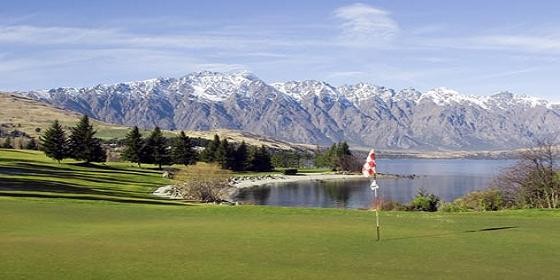 Queenstown (Kelvin Heights)
At Kelvin Heights, only minutes from downtown Queenstown, the Queenstown Golf Club has some of the best views of any golf course in New Zealand. This is a must play golfing attraction. The golf course is set amid breathtaking lake and mountain scenery with holes running parallel to Lake Wakatipu and views of the Remarkable Ranges. Each hole has a majestic backdrop, with the 5th hole, "Shoreline", being one the most photographed - so take your camera as well as your clubs.
Jack's Point
The vision for Jack's Point has been conceived and is being nurtured by the international design practice, Darby Partners Limited. Darby Partners has been responsible for a number of celebrated and award winning projects, such as Denarau Island Resort in Fiji, Clearwater Resort in Christchurch and the Millbrook Resort, also in Queenstown. Each of these has been a resounding success, each has been a learning process. Jack's Point is sited on the elbow of Lake Wakatipu and at the foot of the Remarkables mountain range. The setting is stunning and the course demanding but with a range of tees to suit all abilities – enjoy!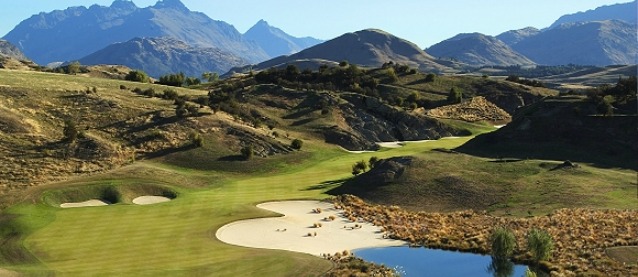 The Hills -New Zealand's most exclusive golf club!
The Hills, opened in 2007, hosted the National Open from 2008 to 2010 and is set over 101 hectares (250 acres) of former deer farm on the outskirts of Arrowtown in Central Otago. The Mill race winds its way through the property and feeds the 10 lakes and various ponds and waterways on the golf course. Trees, both native and exotic, are a feature of the course. The wetland areas have been expanded, planted out with varieties of New Zealand flax, the ubiquitous cabbage tree and wetland grasses and reeds. More than 50,000 red and silver tussock plants create a spectacular visual statement. Winter snow and frost conditions provide the ideal climate to grow fine grasses preferred for modern day golf.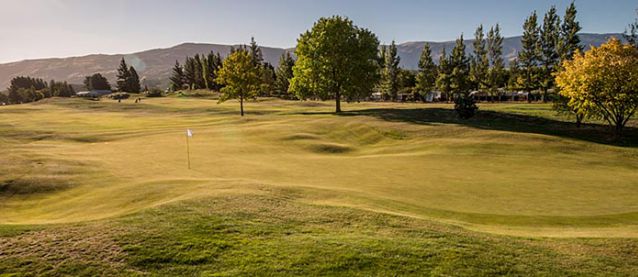 Cromwell
This country golf course offers a full vista of the Pisa Range beckons. Located in Central Otago, Cromwell is the most inland links course in New Zealand and it is championship course. A generous climate and terrain resembling a coastal links area mean the Cromwell course is available all year round with little weather disruption. In addition, the $1M development, carried out in 2010-12 has resulted in a far more challenging and interesting golf course.