The Courses
Capilano
Capilano is one of Canada's greatest courses and is given an "A" by Golf Odyssey (their highest ranking). This private gem by Stanley Thompson, located in the exclusive British Estates neighborhood of West Vancouver is a mere 20 minutes from downtown. Carved from a supremely romantic evergreen forest on the side of a mountain and overlooking downtown Vancouver, Capilano has changed little since its 1939 opening.
At Capilano, as pretty a course as you will ever play, it hardly matters that the three par 5's on the front nine would be considered longish par 4's by today's standards. The game proceeds with a wonderful rhythm and features exquisite green complexes whose devilish contours and strategically placed bunkers mimic the majestic surroundings. The finishing holes are tough, especially the long par 3 16th and the uphill 3-shot finale that demands an approach over terraced bunkers to a plateau green.
Royal Colwood
Royal Colwood is about 10 miles from the hotel where you will be staying and is one of Victoria's jewels from the golden age of golf architecture. This private club was the first design by Arthur Vernon Macan, the first Canadian to attain membership of the American Society of Golf Course Architects. It is one of only 5 Canadian courses to receive the "Royal" designation. King George V granted the title after his son, Edward, became the club's patron.
Occupying an old gravel pit and steeplechase course, Macan's parkland design features enchanting holes lined by towering ancient Douglas Firs and Garry Oaks. The sternest test, the long par 4, 3rd hole doglegs right around trees and OOB's. A creek crosses in front of the green, forcing a risk-reward decision on the approach. More often, trees present the primary challenge. The 12th begins with a blind uphill drive through a chute and concludes with an approach threaded through an arborous corridor. The signature 16th, "Cathedral", is magically enveloped by Douglas Firs.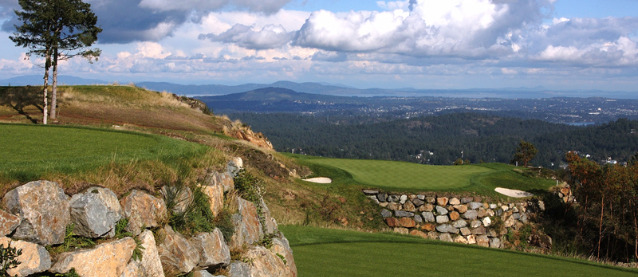 Bear Mountain Golf & Country Club
Co-designed by Jack Nicklaus and his son Steve, the Mountain course at Bear Mountain is set in the foothills of Mount Finlayson and strikes the perfect balance between playability and a truly challenging year round golf experience for golfers of all skill levels. With panoramic mountain, city and ocean views set within rolling fairways and lush forest, rest assured - you will be back for more. Nicklaus is now one of the game's premier course designers, noted for the incredibly high quality and inventiveness of his layouts. Bear Mountain is a wonderful example of Nicklaus design, costing approximately one million dollars a hole, funded by a coalition of former and current National Hockey League stars. After opening in the summer of 2003, the Mountain course was rated the #1 new course in Western Canada and 2 years later, #1 golf course in all of Canada.
Located twenty minutes north of downtown Victoria, the stunning, 1,500-acre property is a natural wonder of rocks, rivers, valleys, forests, and mountain peaks, and Nicklaus has stamped the landscape with his indelible paw print. At Bear Mountain, Nicklaus has accomplished the rare feat of making the course a tough challenge for the low handicappers while offering the ordinary golfer an enjoyable test.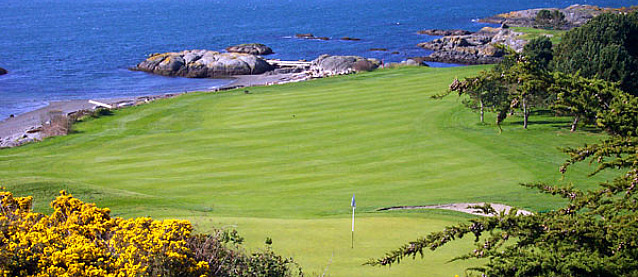 Victoria
This private club dates back to 1893, making it the oldest club in Canada still playing on its original grounds. Legendary players like Vardon, Nelson, Hogan and "The Babe" have tested their games on this course. It is the closest club to downtown Victoria and stays open for play more days per year than any other course in Canada.
The Victoria Golf Club sports an idiosyncratic, tightly circumscribed 6000 yard, par 71 playing field. Although the majority of it's holes are short, relatively flat and tight, it is a "must play" thanks to a gorgeous stretch of holes across Beach Drive on the Strait of Juan de Fuca. Most noticeably, the meeting of land and sea on 5-9 qualifies as one of the game's beauty spots. The signature 7th hole heads out to the point before bending left toward the edge of the bluff, its green perched precariously near the precipice. Ben Hogan famously putted off the green into deep despair during an exhibition here. The 8th and 9th, both one-shotters, play in different directions from tee boxes clinging to land's end. Migrating humpback whales and resident orcas are often in view.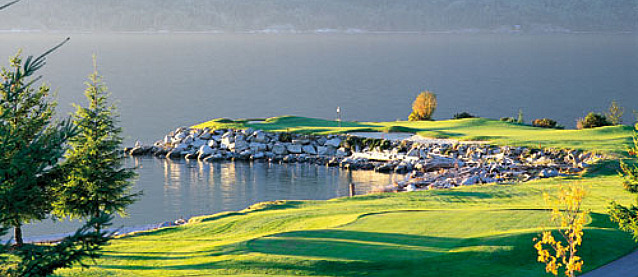 Furry Creek Golf & Country Club
Furry Creek is not a course that one merely plays - it is an enriching adventure to be savoured. Considered one of the most beautifully landscaped playgrounds in the province, Furry Creek delivers an unforgettable experience with its breathtaking beauty, dramatic play and first-class facilities. As British Columbia's most scenic golf course, Furry Creek perfectly captures the most spectacular qualities of this part of the country. This par 72 golf course designed by Robert Muir Graves and built in 1993 offers panoramic ocean views and encounters with abundant wildlife.
The 1st hole tantalizes you with a 165 foot drop from the tee to the green. In spite of the water to the left and the trees to the right, big hitters can rarely resist the temptation to let one fly. With a favorable combination of wind and elevation it is not unheard of to reach the green 326 yards away! The par 3, 14th hole brings you a golfing experience unlike any other. Hugging the unspoiled shoreline of the Squamish Inlet this awe-inspiring hole may be the prettiest golf hole in all of Canada. A solid long or mid-iron is required to reach the green that has bunkers short and long and is surrounded on three sides by water. Add capricious winds to the mix and you will quickly see that this hole is as challenging as it is beautiful.
Known among trivia buffs as the course that Bob Barker and Adam Sandler had it out on in "Happy Gilmore", Furry Creek is a golfing experience unlike any other on the continent. It won't be the course you shoot your career round on, but it will be one of the courses you will remember for the rest of your life.
Fairmont Chateau Whistler Golf Club
"Mountain Golf at its finest," says Links Magazine of the course rated "4 1/2 Stars" by Golf Digest.
Whistler has become one of the premier golf destinations in Canada and the Fairmont Chateau Whistler Golf Club is most certainly one of the reasons why. Designed by Robert Trent Jones, Jr. and opened in 1993, the par 72, 18-hole course offers a golf opportunity unmatched in the region. By allowing nature to dictate the path without constraints of commercial influence, the course traverses creeks, ponds, stands of ancient Douglas fir and granite rock faces that testify to the fact that this magnificent course follows closely the natural state of the rugged terrain.
Carved out of the slopes of the Coast Mountain range in British Columbia, with elevation changes of more than 400 feet overall, this magnificent golf course is generous to the eye and provides enough fun and challenge for players of all levels. Remember to keep your camera with your clubs, so you can take full advantage of all that this great course has to offer!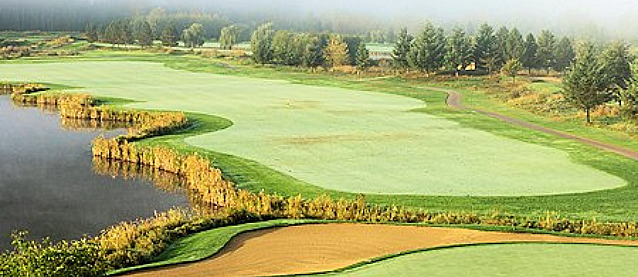 Big Sky Golf & Country Club!
In one of the most awe-inspiring and dramatic natural settings anywhere, the Big Sky Golf and Country Club has become everything any golfer could hope for. Just 25 minutes north of Whistler you will find the Big Sky Golf and Country Club. Bordered by an emerald Green River, seven lakes and various little meandering creeks, a day spent at Big Sky is a day that will long be remembered. Nestled near the town of Pemberton and designed by award winning architect Bob Cupp, the Big Sky Golf and Country Club has truly become a crown jewel in the sea to sky golf corridor.
From tee to green, Big Sky is a breathtaking marriage of beautiful scenery and spectacular golf. With dramatic mountain views, generous bent grass fairways and pristine playing conditions, Big Sky is a design of grand subtlety, enhancing both the challenge and pleasure of a round of golf. With 190 pristine acres, a natural blend of lakes and creeks and four sets of bent grass tee boxes stretching from 5208 yards to a challenging 7001 yards, the Big Sky Golf and Country Club truly is Spectacular Golf!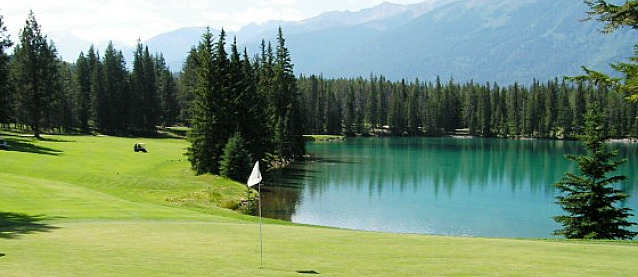 Jasper Park Lodge Golf Club
Stanley Thompson, Canada's master golf course architect, displayed his finest work with his design of The Fairmont Jasper Park Lodge Golf Course. It's hard to imagine a course that hugs snow-capped mountains, meanders past glacial-fed lakes and through a wildlife corridor featuring elk, caribou, bears and wolves. Thompson had the vision and led the team that conceived of and constructed a world-class course in the heart of a Unesco World Heritage Site over 80 years ago.
Thompson carved fairways from the surrounding forests, giving top priority to the natural contours of the mountains. As a result, the par 71 course features elevated tee boxes, dramatic bunkers and vistas that scan the surrounding mountain peaks. A stunning natural setting, combined with unparalleled bunkering, makes The Fairmont Jasper Park Lodge Golf Club a "must play" course and is definitely worth the journey to Jasper!
Banff Springs Golf Club
Set in a landscape that seems to have come straight out of a dream, the Banff Springs Golf Course in Alberta is simply what every other mountain course aspires to be. Built in the shadows of the towering Rocky Mountains, Banff Springs weaves through dense, evergreen forest, and beside two glacial rivers. With distractions like the incredible scenery, clean mountain air and roaming elk, this superbly maintained course will test both your concentration and your game. A perfect example of this battle for attention between golf and scenery is the famous, "Devil's Cauldron."
A picturesque, 171-yard par 3, this hole requires you to carry your shot the entire distance, over a glacial lake to a small, bowl shaped green. Although the tee is elevated to allow you one less club, you should still be certain to make good contact. A steep bank guards the front of the green. Any shots left short will roll back and join the many other balls in the glacial lake.
Grey Wolf Golf Course
Surrounded by the rugged Purcell Mountains of British Columbia and situated at nearly 4,000 feet, Grey Wolf Golf Course is one of the preeminent mountain golf courses in the world. Doug Carrick's masterpiece is one of the few courses in existence that can rightly claim '18 signature holes.'
'Cliffhanger,' Greywolf's 6th hole is truly one of North America's 'must plays.' The par 3 requires golfers to carry between 140 to 200 yards over Hopeful Canyon onto a mountain island green with severe drops off the front, left, and backside, making it one of the most dramatic, awe-inspiring holes you'll ever play. Greywolf can be both visually stunning and intimidating. But whether you're a beginner, intermediate, or pro, Greywolf has four sets of well designed tees making it playable for all.