The Hotels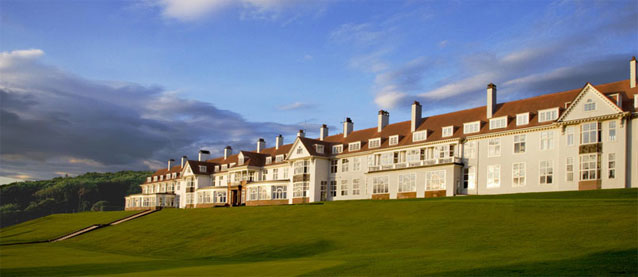 Turnberry, A Luxury Collection Resort, Scotland
Lulled by the staggering beauty of mile after mile of Ayrshire coast, guests driving in are often unprepared for the attention commanded by the stately Turnberry Resort when it bursts into view. A hotel in the style of an opulent Edwardian country house was built on this 800 acre estate at the turn of the 20th Century, and its grandeur has been carefully preserved ever since. The obliging staff, many of whom have worked at Turnberry for years, welcome travelers with traditional lowland hospitality: warming whiskies, comforting fare, unobtrusive service, and tales of truth and legend about this place, so rich in history, both ancient and modern. Here, in the still, clear air, Turnberry has come to be known as a centre for health and relaxation since it debuted one of Europe's first spas nearly 30 years ago. Red roofed Turnberry Resort will keep its rightful place as one of the world's top hotels for years and years to come.
Located on the stunning Ayrshire coast just 55 minutes from Glasgow Airport and 30 minutes from Prestwick Airport, Turnberry is recognized as one of the world's finest resorts delivering a myriad of unrivalled facilities, including an award winning spa and variety of outdoor activities.
A total of 221 rooms includes 21 suites, 12 luxury lodges and 9 cottages. All rooms have large bathrooms with showers, bathrobes, heated towel rails and hairdryers. There is no better way to relax and unwind than in Turnberry's exclusive Health Spa. Here everything is designed to restore the perfect balance of body and mind by reducing stress and increasing wellbeing.
Rusacks Hotel, St Andrews
Opened in 1887, Rusacks Hotel preserves a genuine warmth and intimacy of style, which makes it a revered St Andrews tradition. Over the years it has hosted many top players, as well as rock and roll legends and other celebrities. With just 48 rooms and suites, many overlooking the golf course and St Andrews Bay, the hotel has a peaceful, club-like mood and boasts a quality of service which fosters a sense of wellbeing. Magnificent windows look out on green panoramas, shimmering seas and limitless skies.
St Andrews' magnificent Old Course is no more than a firm putt from your door. An easy chip brings you to the beckoning shops, hostelries and the history of St Andrews town. A full three wood is all you need to reach one of Scotland's finest stretches of sand, reaching for miles along this glorious east coast.
Kilmarnock Arms Hotel, Cruden Bay
Kilmarnock Arms Hotel was described in a 1990 Great North Scotland Railway guide book as an "old established hotel". The Kilmarnock Arms goes back to at least 1888 when a local newspaper reported a dinner in honour of a departing tenant from Braehead farm. The name Kilmarnock Arms comes from a son of the Earl of Kilmarnock, who in 1724 married into the Erroll family of Slains Castle, whose title became that of the eldest son of the Earl of Erroll. For many years a temperance Hotel and incorporating the Post Office, the 'Killie' as it is known locally, has always been advertised as a suitable centre for golfing and seeing such local attractions as Slains Castle and Bullers of Buchan. In earlier years it also advertised sea bathing, hired bicycles and facilities for fishing and shooting.
Situated in the centre of the coastal village of Cruden Bay and only 800m from the world renowned Cruden Bay Golf Club, the Hotel offers an excellent base for golf, angling, riding, walking, shooting or a visit to the spectacular beach. It is also in the midst of the Whisky and Castle trails. There is a spacious beer garden with tables and a play area for children where you can relax with a cold drink. The hotel has 14 en-suite bedrooms which are available as family, double, twin or single. All bedrooms designated as non smoking and are recently refurbished to the highest standard with satellite color television and tea / coffee making facilities.
Royal Golf Hotel, Dornoch
The address of the Royal Golf Hotel is simply "First Tee, Dornoch"! There are 25 rooms here, many of which have splendid views across the golf course and the coastline beyond. It was named the "Small Hotel of the Year – 2004" by the Scotland Golf Tour Operators' Association.
The centre of this small Cathedral town is just 200 yards away and you must visit the "old town". Clustered around the square are the cathedral, dating to 1225 and site of Madonna's wedding (for the trivia buffs), a surviving tower of the Castle of Bishops and the old jail. Of course, there's also an optional "Donald Ross Tour" for those Course Architecture fanatics - Dornoch was the birthplace of the architect of classic American courses such as Pinehurst, Seminole and Oakland Hills.