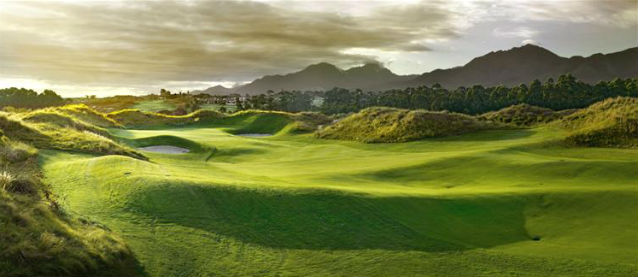 South Africa
Why do we rate South Africa as one of the hottest golf travel destinations on the planet?
The course are exciting, unique & scenic
The non-golf activities (wineries, Safari Lodge, sightseeing) are incomparable
The hotels are ALL world class
Working in conjunction with my local, in-country partners we can offer you a safe, secure tour
It is FANTASTIC VALUE!!!
Scotland and Ireland are home to the greatest links courses. The USA offers up an incredibly diverse range of world class resorts. However, when it comes to combining championship golf with the "once in a lifetime" experience of a wildlife safari you know we are talking about a visit to South Africa. You will have the chance to experience the pleasures of world class golf courses interwoven with breathtaking landscapes of unsurpassed beauty. To complement the great golf you will stay in lodges, hotels and resorts that have been specially chosen to meet international standards of hospitality and security. Luxury and comfort, combined with exhilarating sights and sounds in beautiful African settings, will make this dream a reality.
We normally commence your adventure in the south either at Cape Town or George. George is where the Fancourt Resort is situated and boasts three of South Africa's greatest golf courses – The Links, which is ultra private, (you are guaranteed a start), has hosted a number of major international golf events. Do you remember the 2003 President's Cup where Tiger and Ernie had to play off and the Cup finished in a draw? The other two courses are Montagu and Outenigua. A short drive away is Pinnacle Point which boasts 180 degree views of the Indian Ocean from every hole and was described by Darren Clark as "... the best golf course on the planet."
The Table Bay Hotel in Cape Town will be your base to explore this beautiful city. You could ride the cable car to the summit of Table Mountain, take a boat trip to Robben Island where Nelson Mandela was jailed for 20 years or you could drive to the Cape of Good Hope. There is plenty of shopping to be done and wineries to visit, but golf at Pearl Valley is a must.
From here we will travel north to experience a South African Safari while staying at the Lukimbi Safari Lodge in Kruger National Park. We suggest at least 3 days for real interaction with the wildlife you have come to experience. There will be plenty of chances to catch the "Big 5" as well as a guaranteed tee time over the country's Number 1 rated course, Leopard Creek.
The infamous Sun City Resort and our hotel, The Palace of the Lost City, should be the next port of call. Here you can experience two more of South Africa's golfing 'Gems' – The Gary Player (ranked #3 in SA) and Lost City (ranked #9).
Then, why not top off the adventure with a 3 day visit to Victoria Falls in Zambia before heading home for a well deserved rest. As with all Global Golf tours we can customise extensions like this to suit your requirements.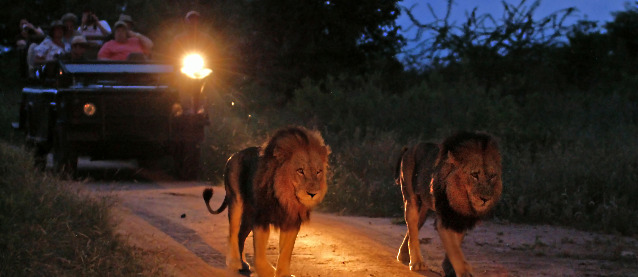 Lukimbi Safari Lodge Wildlife Experience
Lukimbi Safari Lodge is situated in the game rich, southern section of the world renowned Kruger National Park. This provides the ideal habitat for large herds of zebra, wildebeest and other plains animals. Herds of buffalo roam through grasslands seeking the succulent grasses, before moving down to rivers to amble slowly through the reeds. Elephants can frequently be seen all over the concession and in the river in front of the lodge is a favorite place for them to spend hours at a time. Guests relaxing at the lodge pools can find themselves enthralled, watching elephant families equally enjoying their own pools, particularly if the families include endearing babies.
Where you find animals, you find the predators. Tracking lions in open vehicles is one of the most exciting things to do and guests will never forget the spine chilling and awesome sound of a lion roaring at close quarters. Leopards are also found at Lukimbi, more difficult to spot, but guests are rewarded with the sight of one of the most beautiful animals in the world. During daily walks, Field Guides will fascinate guests with information on the smaller reptiles and insects, which they might have missed on drives. Inquisitive giraffe frequently amuse guests on walks, as they watch the guests watching them, their long, luxuriant eyelashes never failing to charm.
Game Drives go out in the early morning and late afternoons in open Landrovers. The Guides love to share their extensive knowledge, and work closely with Shangaan trackers to get the best sightings. There is great communication between the two and Trackers are encouraged to share their knowledge of local uses of herbs and trees, animals and birds. You can follow the Big 5 off road in careful, controlled circumstances; this is an experience few guests would like to miss. Guests are able to get really close to the animals and experience truly fantastic photographic opportunities. Early mornings start off a little cold, but a stop is made later for warming drinks, or cold ones, if preferred. A highlight of late afternoon drives is the time spent at sundowner time. This is the moment to appreciate the magnificence of an African sunset, whilst sipping drinks.
Lukimbi is the place to enjoy wonderful walks, because it is so large and unspoiled. It is quite a different experience to see animals on foot and always very exciting. The walks offer the opportunity to look at and learn about the smaller things and just to appreciate the special smell of the African bush, listening to the calls of the many species of birds. Walks are generally taken after breakfast and guests are always accompanied by an armed Ranger.
Tour Highlights

Green fees at world famous golf courses
Accommodation in fine hotels
Full breakfast every day
Full Board (including meals and drive fees) at Lukimbi
Welcome Function and Final Dinner/Trophy Night
Internal flights, transfers, ground transportation & sightseeing entry fees