The Courses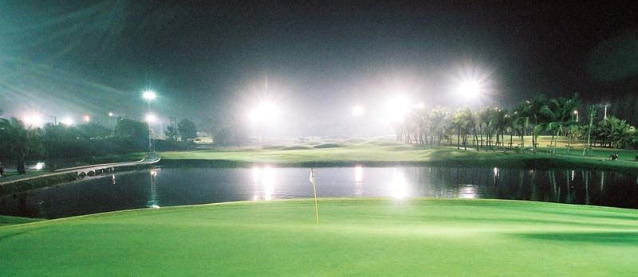 Callaway Golf Centre, Las Vegas- Night golf under floodlights!
Located right on the Las Vegas Strip, The Callaway Golf Center™ is home to a 113 station driving range, a nine hole golf course, a terrific golf shop and a friendly restaurant and bar. The course, "The Divine Nine," is beautifully landscaped to fit in with the desert location. It's a championship par 3, nine hole course featuring lakes and water features that is fully illuminated for night play year round. It features many challenging holes ranging from 110 to 185 yards which feature PGA quality greens. Inside the clubhouse you will find a knowledgeable and friendly staff ready to assist you with all your needs.
A "Welcome Happy Hour" in the Back Nine Function facility right at the centre could be a good way to kick off the tour with 9 holes to follow under the lights?
Paiute Golf Resort (Snow Mountain Course) – 4.5 Stars in Golf Digest
Las Vegas Paiute Golf Resort won the Vegas Golfer fairway award for "Best Overall Experience," and readers also picked it for "Best Upscale Course" in the valley. To keep its three Pete Dye courses in their always remarkable shape, Paiute employs three wells of its own. The result is impeccably maintained fairways and bent grass greens that never go thirsty. In addition, the expansively beautiful, many-windowed adobe-style clubhouse is second to none for style, food, creature comforts and service.
At Paiute expansive is the word. There's no housing anywhere, nothing to distract from the natural beauty of the courses nestled between the Spring and Sheep Mountain Ranges. Dye, meanwhile, has smoothly engineered a seamless melding of golf with the natural surroundings. Most holes are isolated so that the only sounds come from the songs of the many desert birds that live in the colorful seas of desert plants, Joshua trees, cacti and red, yellow, purple, orange, mauve and pink desert flowers that border each hole.
For two legged creature comforts -- refreshments, lunch, dinner or, for weddings, banquets or tournament receptions -- there's that award winning clubhouse with a central skylight in its towering foyer, a long marble bar (with leather-padded stools), a separate smoking lounge and huge banquet rooms with floor-to-ceiling windows that look out on Snow Mountain's lake-fronted 18th green, gleaming cross-cut fairways and the ever-present mountains.


Cascata, Zagat's #1 Ranked Facility in the US in 2009
Designed by renowned golf course architect Rees Jones, Cascata opened in 2000 and is celebrated as one of the finest designs in the world. Only 30 minutes from the Las Vegas Strip, Cascata is the ultimate in privacy, luxury and uncompromising service. From the moment you arrive, accommodating staff is there to ensure you have an unforgettable day. Few places on Earth offer such extravagance. Cascata, Italian for "waterfall," is aptly named. A 418 foot waterfall flows from the steep mountainside, tumbling over mammoth boulders, cascading into a river that roars through the clubhouse, eventually culminating in a tranquil stream. It's no wonder Sports Illustrated called Cascata "golf's hidden treasure."
Cascata's private gates open to a spectacular landscape that forms a regal backdrop for a golf experience like no other. The par 72 course provides stunning vistas at every turn, including the 3,600 foot peak at Red Mountain, lush fairways, lakes, and streams. Class A PGA professionals attend to equipment, fashion or instruction needs, and players are accompanied on-course by a Tour class caddie. The Tuscan style, 37,000 square foot clubhouse offers an Old World ambiance of unpretentious luxury, where attentive staff members oblige your every need. The dining room features an appetizing menu sure to impress every taste. The golf shop carries an array of equipment, stylish apparel and accessories. The men's and ladies' lounges are equipped with every conceivable amenity, including sink-side, flat-screen TVs.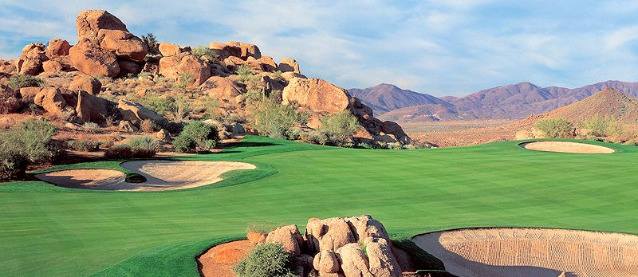 Troon North (Monument & Pinnacle) – 4.5 Stars in Golf Digest
Troon North Golf Club is the hallmark desert golf experience. It stretches through the natural ravines and foothills of the high Sonoran Desert in the shadows of Pinnacle Peak. The challenge, visual sensation, immaculate grooming and special ambiance of Troon North set the standards by which all others are measured.
There are two 18 hole courses here, both designed by Tom Weiskopf and his partner, Jay Morrish. From the back tees they are rated some of the toughest courses in the State. You will still need to hit it straight because this is "target golf" at its best!
The Troon North Courses are consistently ranked number one and two in Arizona by Golf Week and Golf Magazine. Wide fairways wind through a pristine desert landscape, ruled by tall saguaros and meandering washes. Rugged mountains can be seen from nearly every direction. They are extremely well-designed, providing the golfer with excellent views of each hole from the elevated tees.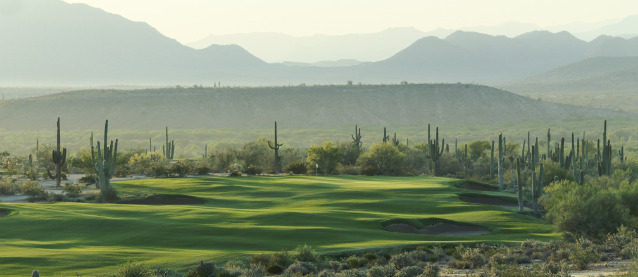 We Ko Pa (Saguaro) – 5.0 Stars in Golf Digest
We-Ko-Pa Golf Club is a spectacular, modern golf facility. The Saguaro course was designed by Bill Coore and Ben Crenshaw. It opened in December, 2006 and has been the subject of rave reviews not seen in the Scottsdale area since the Monument course at Troon North opened. In addition to the two 18 hole courses, there is a large practice facility and a full service clubhouse.
We-Ko-Pa has been developed and is owned by the Fort McDowell Yavapai Nation. It is located on land that will never be used for residential or commercial development, yielding dramatic views of the Sonoran Desert and the surrounding mountains. Ben Crenshaw says of his latest creation: "This piece of land has some very interesting natural movement to it. I think this golf course will be pretty unique for the desert. People will be induced to play different shots and find solutions to new challenges when playing this course".
TPC Scottsdale (Stadium) – 4.0 Stars in Golf Digest
Jay Morrish and Tom Weiskopf formed one of the most prolific design tandems in golf, creating some 17 golf courses from 1986-94. During their first year together they produced a number of award winning courses that were stunningly attractive without sacrificing playability. Fortunately for the PGA Tour, among their early collaborations was a project for the Tournament Players Club Network, the TPC of Scottsdale. Set in the Sonoran Desert and surrounded by the majestic McDowell Mountains, this Tournament Players Club features two 18 hole golf courses. On the suggested itinerary you will be playing the Stadium Course and, like the original Stadium Course at the TPC at Sawgrass, the Scottsdale edition was designed to host a PGA Tour event. It is straight forward and playable, which Morrish favors, yet it also provides the challenges that Weiskopf insists upon.
It's a marvelous golf course complete with spectator mounding - a necessity when some half million people visit for a week to watch the Phoenix Open. But don't worry - the stands and mounds will be empty when you're there! The Stadium Course possesses the natural flavor of the desert that lends to its beauty. Saguaro cacti and mesquite trees dot the landscape, and one of the largest Palo Verdes trees in the state, measuring 42 feet, a dozen feet higher than normal, resides at the 15th hole. Just to provide some contrast there's six water hazards which, of course, you just normally don't find in arid climates.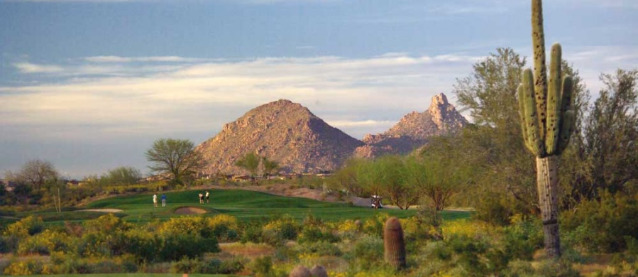 Grayhawk (Raptor) – 4.5 Stars in Golf Digest
Scottsdale's acclaimed Grayhawk Golf Club offers two of Arizona's most enjoyable and challenging golf experiences. The Talon Course was designed by Australia's US Open and PGA Champion David Graham but we're here to play the infamous Tom Fazio's Talon course. It's one of Golf Digest's "Must Play's" and has been ranked by Golf Magazine as one of the "Top 10 You Can Play".
In addition to thrilling golf, Raptor provides players with breathtaking views of the nearby McDowell Mountains and the unspoiled beauty of the great Sonoran Desert. Unlike most of the desert courses there's quite a lot of water here to contrast with the desert ravines and arroyos. Grayhawk is a spectacular "Master Planned Community" which is home to many PGA Tour identities including Phil Mickelson, Gary McCord, Peter Kostis and our own Geoff Ogilvy.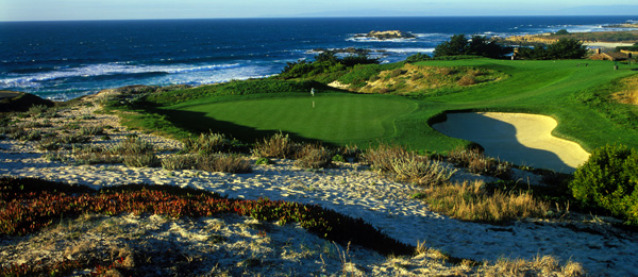 Spyglass Hill Golf Course
Spyglass Hill takes its name from Robert Louis Stevenson's classic novel, Treasure Island. Local legend maintains that Stevenson once wandered the Spyglass area gathering ideas for his novels - all the holes are named after characters in Treasure Island. "Black Dog" and "Billy Bones" are some of the hints for the unwary.
Spyglass Hill was designed by Robert Trent Jones Sr., as a part of the master plan for the Pebble Beach ocean front. Jones was to design a course between Cypress Point and Pebble Beach. The design was beautiful but controversial when it opened in 1963. Alterations have settled the controversy, but the beauty remains just the same. Most fairways are tight and pine trees seem to intrude on your preferred line of play. Spyglass Hills Golf Course is long, technical and some critics even think of it as unforgiving. However, one thing remains for sure – it is probably Robert Trent Jones' greatest design achievement and one of the most challenging, dramatic and beautiful tests available for the public to play.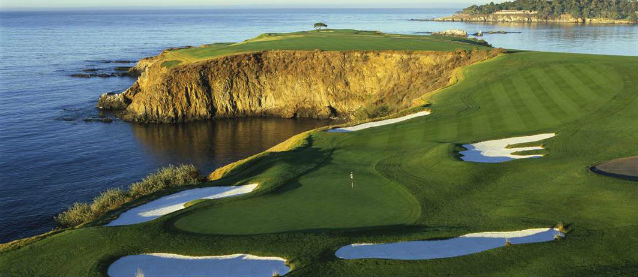 Pebble Beach Golf Links - #7 2013 Golf Magazine's World Top 100
Since 1919, the exquisite beauty and unique challenge of Pebble Beach Golf Links has thrilled golfers and spectators alike. Pebble Beach has been the site of golf's most prestigious tournaments, including the annual AT&T Pebble Beach National Pro-Am, the 1972, '82, '92, 2000 & 2010 US Open Championships.
Pebble Beach Golf Links is ranked the No. 1 Public Course in America by Golf Digest. It was designed by Jack Neville and Douglas Grant and hugs the rugged coastline, providing wide open vistas, cliffside fairways and sloping greens. It is a delightful challenge for all players. For nearly 90 exciting years, Pebble Beach Golf Links has proven time and again it can define champions and championship moments. Jack Nicklaus has called Pebble Beach his favourite course. Many others think it is the best in the world and, certainly, the most beautiful. The course sits on cliffs way above Carmel Bay and has probably the most scenic setting in all of golf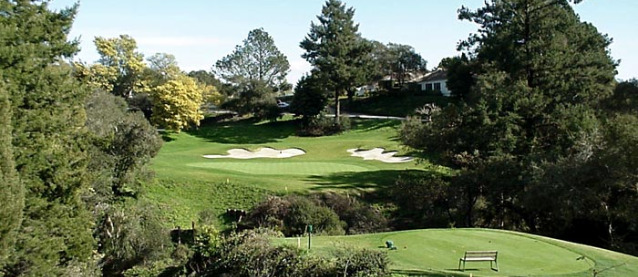 Pasatiempo Golf Club
Pasatiempo was designed by world renowned golf architect Alister MacKenzie. Even though MacKenzie also designed Augusta National and Cypress Point, Pasatiempo was his favorite layout and where he made his American home, which still borders the 6th fairway. Today, this historic top 100 course is a semi-private golf club that sets aside certain tee times each day for public play.
Pasatiempo is a golfer's dream come true - it is ranked #11 in Golf Magazine's Top 100 Courses You Can Play 2008 and ranked #31 in Golf Digest's 2005 America's Greatest Public Courses. Golf Digest also named Pasatiempo Golf Club as one of the top 3 courses you can play in California (along with Pebble Beach and Spyglass Hill). Golf Magazine ranks Pasatiempo #55 in the Top 100 Courses in the U.S. (private and public), up 16 places over the 2005 ranking!