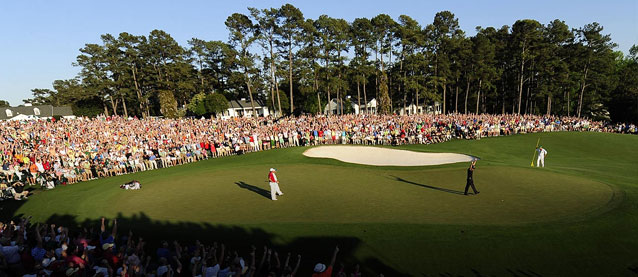 The Masters - The Search for the Holy Grail
Are there more famous or romantic names in American golf – and maybe golf anywhere – than Augusta, The Masters and Pinehurst? They truly are "The Holy Grail". When it comes to places all golfers must visit in their lifetime these names are right at the top of everyone's list.
Firstly, you will make your way across to the US East Coast and down to Charleston, South Carolina and the infamous golf resort at Kiawah Island. You will tackle the 2012 US PGA hosting Ocean Course on your very first day on tour. Before you get to Augusta you will also get a chance to test your game over one of Jack Nicklaus' earliest and most highly acclaimed designs, Turtle Point at Kiawah Island. Then its off to Augusta  - naturally, all the talk that night will be "Who has the game to take on Tiger? How are all the Aussie contenders going to fare this year?" The next day you will be transferred across to the course for your first glimpse of Augusta National. Take comfortable shoes because it's a lot hillier than it looks on television! One of the highlights of your golfing lives will surely be your chance to then walk the rolling fairways of Augusta National Golf Club. We have deliberately included Wednesday's action on the itinerary so you can take photos of this wonderful place.
As the Masters moves into the weekend you will head up the road to the storybook Carolina village of Pinehurst. You have 3 days and nights of 5 Star golf, lodging and dining at, arguably, the world's Number 1 Golf Destination. Among the many bragging points will be the fact that you're playing Pinehurst #2, host venue for the US Open in 2005. In 2014 it will host both the Men's' and Women's' US Opens….in consecutive weeks!!
Tour Highlights

Patrons Badges for 3 days at The Masters
Accommodation for 9 nights
6 Rounds of world class golf